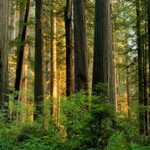 Forest Digest – Week of March 14, 2016
March 18th, 2016 by American Forests
Find out the latest in forestry news in this week's Forest Digest!
Trees Deal With Climate Change Better Than Expected — New York Times
A new study reveals a more hopeful perspective on how forests may be able to withstand rising temperatures more adeptly than previously thought, releasing only 5 percent more carbon dioxide than under normal conditions.
Beauty and Balance in the Boreal — Huffington Post
In honor of International Forests Day on March 21, this article offers an in-depth look at one of the largest intact forest ecosystems, spanning more than a billion acres.
Researchers find dissimilar forests are vital for delivery of ecosystem services — Phys.org
A new study published this week in Proceedings of the National Academy of Sciences highlights the importance that biodiversity plays in forests' ability to most successfully perform numerous ecosystem services.
Bark Beetles, Wildfires, and Our Forests: 5 Questions for Dr. Brian J. Harvey — Huffington Post
In an interview with Dr. Brian J. Harvey, who studies the causes and consequences of beetle outbreaks and forest fires at the University of Colorado, discover how these two epidemics are impact vast parts of the United States.