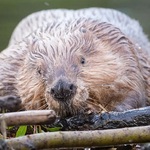 bbc.com – 16-01-2023
Two beavers are on the run after escaping from an enclosure on a rewilding project.
The Eurasian beavers, Woody and Twiggy, were introduced to Mapperton Estate in west Dorset last year under licence from Natural England.
The estate said recent storms had damaged fencing around their enclosure and the creatures had disappeared.
Estate staff, with the help of Dorset Wildlife Trust, are working to find and trap the pair so they can be returned.
About 450 acres (182 hectares) of unproductive farmland at Mapperton Estate, near Beaminster, are being rewilded to create space for wildlife and to trap carbon.
The project was prompted by waning agricultural revenues, repair bills and the pandemic, which prompted owners, Luke and Julie Montagu, Viscount and Viscountess Hinchingbrooke, to seek new income streams.
The beavers were relocated from Scotland to Dorset where they have been living in an eight-acre (three-hectare) enclosure.
A post on the Mapperton Facebook page said the beavers were "currently enjoying an extended excursion along the banks of the Mangerton River".
"Recent storms and exceptionally wet weather have caused damage to the fencing and it is believed that this has facilitated their escape," it said.
People are being urged to report sightings to the estate office.
Rewilding projects can qualify for government subsidies worth hundreds of pounds per hectare, annually.
The Montagu family is also planning to build a visitor centre and convert farm buildings for overnight stays as part of the transformation of the 1,900-acre (770-hectare) estate.
1st time entry in scotch Forest Plan. Beavers: Potential impact on land & trees within 30m of watercourses. Damage to trees (gnawing & waterlogging), integrity of stock fences breached by trees. May negatively impact on diversification of tree species grown for timber objective.