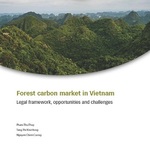 cifor-icraf.org – 28-02-2023 - Publication year 2022 - Authors Pham, T.T.; Tăng Th?, K.H.; Nguy?n, C.C.
This report aims to identify forest carbon potential, review relevant policies, and explore opportunities and challenges for Vietnam to develop and operate a forest carbon market.
The report also provides recommendations for Vietnam and other stakeholders on developing effective, efficient and equitable forest carbon policies and projects.
To achieve its sustainable development and emissions reduction targets, Vietnam needs to identify competitive advantages in the marketplace and develop investment and strategic planning towards a high-value forest carbon market with special focus on biodiversity conservation and social safeguards. The country also needs to refine its legal framework on carbon rights, national carbon registry and monitoring, reporting and verification system. Improving stakeholder capacity; and prioritizing support for small and medium enterprises, communities and ethnic minorities are all important factors that create premises for the sustainable development.