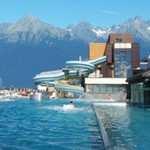 The first ever carbon neutral rally race will take place on 31 August, near the Slovakian city of Poprad.
The Slovak Rally Championship, Tempus Rally 2007, will reach its fifth stage in Poprad, the first time the race has been staged in the protected mountainous region of High Tatras in more than seven years.
The carbon output of the race will be offset by AquaCity, a carbon negative holiday resort and conference centre with a carbon saving surplus, in a move that will please motor enthusiasts and environmentalists alike.
AquaCity heats, powers and runs its site from renewable and sustainable energy sources, such as solar and geothermal.
Jan Telensky, the founder of the resort, explained: 'At AquaCity we generate more energy that we can actually use. We divert this energy to cut other potentially carbon producing process out of the system thus saving harmful pollutants such as CO2 being dumped into the atmosphere.'
The rally will be organised into several stages and will take place in and around the towns of Spisska Sobota, Ordzovany and Repase. There are 30 competitors from all over Europe set to compete in the race.
Opodo is a leading online travel company offering flights, hotels, rental cars and holidays worldwide