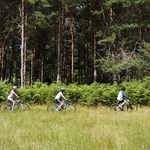 forestryengland.uk - 19-11-2022
Forests provide some of the best cycling trails around.
With 2,500km of them located across the country, every level of cyclist will find themselves living in easy reach of great off-road biking.
We've teamed up with British Cycling to bring you top tips and things to think about before heading out on your bike. Ready to have a wheely good time?
1. Check your bike
To get the very best experience, there are a few things to consider before setting off. From making sure your bike is in full working condition and safe, to what you should take. Preparation is key to avoid a frustrating ride or long walk back!
When taking your own bike, using an easy M-check video will help you to ensure your bike is up to the job or identify any potential issues. If you find a fault, many of our forest centre locations have bike shops who can carry out repairs while you wait.
If you haven't got a mountain bike or fancy giving something new a go, many of the cycle centres offer bike hire and some have a selection of e-bikes and adapted cycles to try. We'd recommend contacting them to check on availability and to book before visiting.
2. Pick your cycling outfit
Other than a helmet and gloves, you don't need any specialist clothing. Footwear that fully covers your feet with grip is recommended and short trousers, so they don't get caught.
Layer tops according to the weather and cycling glasses and shorts are a good idea.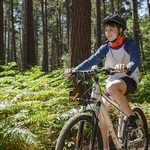 3. Pack the essentials
Having some basics with you can help if something happens. Depending on the weather, a spare top or waterproofs are useful. Sun cream, water and a snack will help keep you protected and feeling ready to ride.  
It's usually easiest to carry these in a small rucksack, making sure any dangling straps are secured. British Cycling also have more advice on what you might need.
4. Research cycle trails
Trails are graded to give a general idea of how difficult they are, with notices displayed at the trail start. Select the best route for your individual experience, fitness and time you have.  
Don't always assume that the same grade trail at this centre is the same challenge as one you have ridden previously. If you are not sure, approach the trail and features at a slower speed or start off with a shorter, easier trail, then work up.
5. Make safety a priority
Trails are carefully designed, built and maintained to ensure you get the best from your visit. During your ride it is likely you will encounter others on shared or multi-user trails.
If you meet walkers, families or horse riders, give them a polite hello and space as you pass. If you stop on the trail, pull over to one side to allow others to pass or have a clear view of the trail ahead.
6. Ride your bike responsibly
Forests are beautiful places. Please help them stay like that by keeping #TrashFreeTrails and taking away all your rubbish. Other top tips for enjoyable cycling:
* Look ahead and anticipate what's coming up on the trail
* Avoid skidding - it destroys the trails and doesn't actually slow you down
* Slow down in plenty of time for trail feature or obstacles approaching
These friendly riding techniques mean both you and other visitors have a great ride, that trails stay in good condition and your bike doesn't wear out quickly. More guidance on techniques is available at TrailSmart.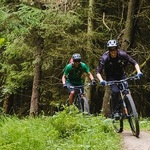 7. Find friends in the forest
There are women-only Breeze into the Forest groups, family friendly routes and guided rides around the country that provide great social rides.
New to cycling?
If you haven't tried off-road cycling or ridden a mountain bike before, our forests are great places to introduce you to the woodland on two wheels with inspiring accessible routes, cafes and bike hire centres.