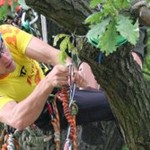 19-06-2017 - Up there in the tree, a different set of rules applies. Every movement must be correct, and safety is the highest precept when working up aloft. The fact is that safety and skill at the highest level play a decisive role in the disciplines of the European Tree Climbing Championship.
STIHL participates in the European Tree Climbing Championship because a precise way of working and professional handling of our power tools in the tree are crucial part of safe working practices.
This year's European Championship will take place from 02 - 03 July in Stromovka Park, Prague, Czech Republic. More Information: http://eurotcc.org/.
The European Championship consists of a total of five disciplines and an overall assessment.
Throwline
Footlock
Speedclimb
Workclimb
Arial Rescue
Master
Specifically for tree service we have equipped our arborist saws MS 150 TC-E, MS 192 TC-E, MS 201 T and MSA 160 T with the same features that are appreciated by professionals working under extreme conditions: responsive, precise, powerful. A machine for everyone who delivers – and demands – peak performance, day in, day out.